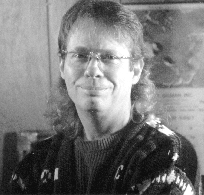 About Me: Largely self-taught, I have been drawing for over thirty years. The bulk of my experience has been in graphite, pen & ink, and colored pencil. My current studies now include pastel, air-brushed watercolor and acrylic, and claybord.

In my position as an engineer I have also gained fourteen years of experience in technical illustration, both on the drawing board and on computer aided design (CAD) systems.

I am currently pursuing opportunities toward developing a career in art and design and would be interested in any free-lance fine-art or design work. I would also be interested in any commissioned portraits, including a portrait of your beloved pet, or a pen & ink drawing of your home or business.